Posts for tag: root canal treatment
By Parker Dentistry
April 11, 2017
It's no exaggeration — dental implants have revolutionized teeth replacement. Life-like and durable, implants are the closest thing in design and function to a natural tooth.
In fact, there's only one thing better than a dental implant — a real tooth. For function and long-term oral health, you can't beat what nature provided you in the first place. So before you finally decide to remove and replace that problem tooth, consider these other options for saving it.
Root canal therapy. Tooth decay can do more than cause cavities — it can work its way into the pulp, the innermost layer of a tooth. If it isn't stopped here, it could continue on to the roots and put the tooth in real danger of loss. A root canal treatment removes the infection from the pulp and root canals and replaces the space with a filling. A life-like crown is then bonded or cemented to the tooth to protect it from further infection.
Aggressive treatment for periodontal (gum) disease. This other dental disease is just as damaging as tooth decay. Caused by bacterial plaque, the gums around a tooth become infected and inflamed. As it moves deeper into the tissues and inflammation progresses, it can affect supporting bone causing it to dissolve. To prevent this potential bone loss, it's important to seek out and remove hidden pockets of plaque. This may require surgery to access the roots for plaque and calculus (tartar) removal, but it's well worth it to preserve the tooth.
Bone grafting. As mentioned before, gum disease can ultimately lead to bone loss. But even when bone loss has occurred (a substantial threat to a tooth's survival) we may be able to reverse it with bone grafting techniques. During this procedure we insert grafting material at the loss site along with substances that stimulate growth. The graft serves as a scaffold for new bone cells to grow upon. Over time the bone volume increases and helps stabilize a weak tooth.
Of course, your best option is to avoid dental disease in the first place with daily brushing and flossing and regular dental visits for cleanings and checkups. That and treating dental disease in its earliest stages will help ensure you'll have the best teeth possible — your own.
If you would like more information on options for treating diseased teeth, please contact us or schedule an appointment for a consultation. You can also learn more about this topic by reading the Dear Doctor magazine article "Save a Tooth or Get an Implant?"
Your tooth is in peril if its innermost layer, the pulp, becomes infected and inflamed. Deep tooth decay, repeated dental procedures or fractures can all expose the pulp and ultimately the roots to infection and lead to tooth loss.
But that scenario isn't inevitable — we can often save the tooth with a root canal treatment. By accessing the tooth's interior through a prepared hole, we're able to clean out the infected tissue in the pulp chamber and root canals, and fill the empty space with a special filling. We then cap the tooth with a custom crown to protect it from a re-infection.
Root canal treatments have a very high success rate — chances are good your tooth will survive for many years afterward. But there's a slight chance the tooth may become re-infected; in that case, a second root canal treatment may be in order.
In a few cases, though, a second root canal may not be advisable, and could even accelerate damage to the tooth. For example, if past dental work resulted in an extensive crown restoration, accessing the root canals the conventional way will require disassembling that restoration. This could weaken the tooth significantly.
We can approach the problem from a different route: instead of accessing the tooth's interior through the crown (the visible part of the tooth), we instead perform a surgical procedure called an apicoectomy, which accesses the tooth at the root end through the gums.
In this procedure we numb the area with local anesthesia and then make a small incision through the gums at the level of the affected root. After access, we remove any diseased tissue around the root and a few millimeters of the root tip itself. We then insert a small filling in its place to seal the canal and prevent further infection. In some cases we may also insert a graft to encourage bone growth and aid in healing.
Over time, the affected area will heal and return to normal function. Even if a traditional root canal treatment can't be used, an apicoectomy could be another option for saving your tooth.
If you would like more information on your options for preserving a problem tooth, please contact us or schedule an appointment for a consultation. You can also learn more about this topic by reading the Dear Doctor magazine article "Apicoectomy."
By Parker Dentistry
September 02, 2014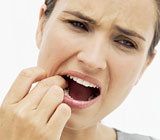 We now have amazing therapies to replace lost teeth with life-like replicas that look and perform like real teeth. But for oral health in general it's still better to save a natural tooth if we can.
That's the main purpose of a root canal treatment — to rescue a tooth whose pulp (an area of tissue and nerve bundles inside the tooth) has died from trauma or ravaged by a bacterial infection that continues to progress up into the bone via the root canals. By accessing the pulp through a small opening in the top of the tooth we remove the dead and infected pulp tissue, thoroughly disinfect the empty pulp chamber and root canals, and then fill them with a special filling. We then seal the opening (and later install a permanent crown) to prevent future fracture of the tooth and re-infection.
So, how can you know your tooth is in danger? Your first indication may be an intense tooth pain that comes on quickly. This pain is emanating from the nerves in the pulp as the tissue begins to die. Once the nerves have died, they will no longer transmit pain signals: hence the pain will subside rather quickly in about two or three days.
So it is important to understand that the absence of pain doesn't mean the infection has subsided — quite the contrary, it's still present and active, making its way along the root canals of the tooth. At this point you may begin to notice a secondary pain when you bite down on the tooth. This is originating from other nerves located around the periodontal ligament (the main tissue that helps hold teeth in place with the bone) as the tissues become inflamed from the infection. You may also develop an abscess, an area in the gum tissue where infectious pus may collect. Depending on its location, the abscess can be acutely painful or "silent," meaning you may not feel any pain at all. The infection is still there, though, and the tooth is still in danger.
If you encounter any of the pain symptoms just described, you should visit us for an examination as soon as possible. If the cause indicates the need for a root canal treatment time is of the essence — the longer we delay, the greater the risk of ultimate tooth loss.
If you would like more information on root canal treatments, please contact us or schedule an appointment for a consultation. You can also learn more about this topic by reading the Dear Doctor magazine article "Signs and Symptoms of a Future Root Canal."