Posts for tag: dental treatment
By Parker Wellness
June 12, 2015
We live in a world of perpetual growth where technology and medicine are in a constant state of advancement. We have no problem keeping up with and exceeding the pace car, and we do it all for you! We are far from ordinary and want to share with you why we are extraordinary.
Cutting Edge Dentistry With the use of the newest CERAC CAD CAM for single appointment crown deliveries, the BioLase water laser for periodontal and soft tissue procedures, and a state of the art laboratory, at Parker Dentistry we pride ourselves on our ability to stay on the top of and utilize the most recent and revolutionary technologies to provide you with the highest quality dentistry available today.
Gentle Touch=Least Amount of Discomfort=Happy Patients This is plain and simple and we do everything to uphold the reputation of providing the most pain free dentistry possible.
Time Everyone's time is equally valuable. Our practice is run around that truth. Efficiency and punctuality are two components of our mission to make your experience at our office easy and pleasant.
Beautiful and Modern Facility When we moved and built out the office at our current location, it was important to create a space that was not only cutting edge and contemporary, but inviting and comfortable.
Competent and Smiling Staff As our philosophy states, a smile makes a face, and a face makes a smile. we employ office managers, dental assistants, dental hygienists, and of course, our doctors, that truly love what they do and reflect that through their outward attitudes. A simple, warm smile can change someone's day, and we promote that here. There is more to our staff than just smiley faces; each and every person that works at Parker Dentistry Facial Rejuvenation and Wellness, is competent and specialized in their unique position to provide you with exceptional service every single time you visit us.
The Tradition of Excellence Continues Dr. Tom Parker, Dr. Steve Parker, and all of our staff welcome the newest addition to the team, Dr. Blake Parker. Dr. Blake is a very recent graduate from the prestigious dental program at the University of Florida and is ready to come in and work side by side with his father and grandfather to continue to uphold the tradition and growth of excellence as part of the Parker practice and family.
Facial Rejuvenation and Wellness Through listening to our patients, the facial rejuvenation and wellness aspect of Parker Dentistry was born and has continued to growth. We offer Restylane, Juvederm, Radiasse, Botox, and Dysport to our patients, as well as HydraFacials and high-end skin care products to help prevent and reduce the signs of aging. We specialize in the mouth and the face and through our expertise in those areas we are able to help you shine from the inside and out.
Superior Insurance Experts We joke, but in a serious way, that we have our very own insurance guru! Chris is the champion for helping you find the best insurance benefits. She is always there with a smiling face and eager to help you with all of your insurance needs.
Affordable Dentistry We want to help you with all of your dentistry needs, whether functional or cosmetic, and we understand that comes with a price, sometimes higher than other times. We offer personal payment plans and will work with your specific financial situation to ensure that you are able to receive the treatment you need and deserve.
Mmmm it smells so good! Everyone knows that sterile doctor's office smell; the one that reminds you of where you are and evokes memories of shots and cold hands. You can thank the lovely scent of eugenal for those associative memories. When you walk in our door it smells like sugar cookies! What types of memories do you associate with sugar cookies?
Thank you for sharing a smile with us today! Next week, I will post our first question of the month, so make sure you check in on Facebook.
By Parker Dentistry
June 02, 2014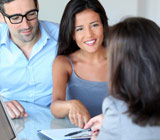 Advancements in dentistry have created an abundant source of treatments for restoring health and vitality to diseased teeth and gums. Unfortunately, not all of these treatment options may be in your financial reach. Fortunately, there are some affordable restorative options, as well as cost-effective treatments that could buy you time until you can afford a more permanent solution.
Your first step is a dental examination to evaluate your current oral health and possible future treatment needs. If you're not already showing symptoms of tooth decay or gum disease, we would evaluate your probable risk for future disease development. Risk assessment enables us to recommend a prevention strategy that is relatively inexpensive and may save you on more expensive dental procedures in the future.
If the examination reveals some current problems, it may be necessary to prioritize. Painful or abscessed teeth are a dental emergency and should be treated as soon as possible. Other conditions, like mild gum disease would be next in line; however, a word of warning: the longer you postpone treatment for many of these conditions, the greater the likelihood of subsequent bone and tooth loss, which will lead to more extensive — and expensive — treatment.
There are also new alternatives to traditional treatments that are less costly but still have many of the benefits. For example, less-costly glass — or resin-based fillers are becoming a popular option for restoring decayed or damaged teeth. Though not quite as durable as more expensive options, these new materials are life-like in appearance and work well on repair sites on non-biting surfaces.
You should also look to one other resource for managing the costs of dental care — us, your dental team. While we want your teeth and gums to be as healthy as possible, we also understand "wallet" issues. We can work with you on financial matters to ensure you're getting the effective care you need, including payment plans for more expensive treatment processes, working with your dental insurance plan, and recommending affordable treatment options.
The key is to develop a long-term care plan targeted to your individual dental needs. Knowing where we need to go — and adapting treatment strategies that match your resources — will help you get the best dental care you can afford.
If you would like more information on dental care treatment options, please contact us or schedule an appointment for a consultation. You can also learn more about this topic by reading the Dear Doctor magazine article "Cost-Saving Treatment Alternatives."