Posts for: July, 2014
By Parker Dentistry
July 23, 2014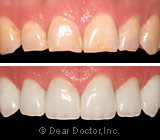 Nothing says confidence like a bright, beautiful smile. But problems with your teeth's appearance — discoloration, abnormal shapes, or gaps — may be giving you reasons not to smile. If so, you may be a candidate for porcelain veneers.
A veneer is a thin covering of porcelain or other dental material permanently attached to the face of a tooth to improve its appearance. Veneers help resolve a variety of aesthetic issues: their life-like color can brighten dull, stained teeth; they can "lengthen" shortened teeth caused by wear or normalize congenitally misshapen teeth; they're also helpful in reducing small gaps or used in conjunction with orthodontics for more serious misalignments.
The first step to a better smile with veneers is to assess your teeth's current condition and develop a treatment plan. Your input is extremely important at this stage — what changes you believe would improve your smile. We would also offer valuable insight, based on our knowledge and experience, into what is realistically possible and aesthetically appealing regarding porcelain veneers.
Once you have decided to go forward, the next step is to prepare the teeth for attaching the veneers. Depending on their size and location, this preparation can range from no tooth structure removal to a relatively small amount of structure. If the latter is needed, we remove only what's necessary to achieve the aesthetic result since structural reduction isn't reversible.
After preparing an impression of your teeth, we would send it and other instructions to a dental technician to create the permanent veneers. In the meantime, we'll install a temporary set for you to wear while the permanent set is under construction.
Once we attach the permanent veneers, they will adhere so securely a drill or laser would be needed to remove them. We achieve this attachment by creating microscopic pores on the face of the teeth and the inside of the veneer with a mild acid solution. The bonding cement seeps into these pores and creates a strong bond that virtually unites the tooth and veneer into one.
Although your new veneers are made to last, you'll need to maintain them like your other teeth, with a little added caution when biting and chewing. All in all, though, you'll be able to smile again with confidence — for many years to come.
If you would like more information on porcelain veneers, please contact us or schedule an appointment for a consultation. You can also learn more about this topic by reading the Dear Doctor magazine article "Porcelain Veneers."
By Parker Dentistry
July 15, 2014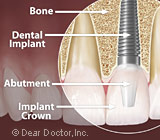 Dental implantation is the premier option for tooth replacement available today. While acquiring dental implants does involve a surgical procedure, don't let that deter you — with proper preparation the procedure is relatively minor and routine.
Implants are root replacements inserted directly into the jawbone to which a life-like, artificial crown is secured (strategically placed implants can also support fixed bridges or removable dentures). They're typically made of titanium, which is osseophilic or "bone-loving": bone will grow and adhere to the implant over a few weeks time.
Pre-planning can help minimize discomfort during and after the implantation procedure. We first conduct a radiographic examination of the site with x-rays or CT imaging; this enables us to assess the site's bone quality and quantity. We can also create a surgical guide from the imaging to pinpoint the precise location for an implant to ensure a successful outcome.
Before beginning the procedure, we numb the area with a local anesthesia (we can also administer a sedative or other relaxation medication if you're experiencing mild apprehension). The procedure often begins by creating a flap opening in the gum tissue with a few small incisions to access the bone. Using the surgical guide, we then begin a drilling sequence into the bone that progressively increases the size of the hole until it precisely matches the size and shape of the implant.
When the site preparation is complete, we remove the implant from its sterile packaging (which minimizes the chance of infection) and immediately insert it into the prepared site. We verify proper positioning with more x-rays and then suture the flap opening of the gum tissue back into place.
Thanks to both the pre-planning and care taken during surgery, you should only experience minimal discomfort. While narcotic pain relievers like codeine or hydrocodone may be prescribed, most often non-steroidal anti-inflammatory drugs like aspirin or ibuprofen are all that's needed. We may also prescribe an anti-bacterial mouthrinse (with chlorhexidine) to assist healing.
In just a few weeks your custom-made restorations will be attached to the implants. It's the completion of a long but not difficult journey; the resulting smile transformation, though, can last for many years to come.
If you would like more information on dental implants, please contact us or schedule an appointment for a consultation. You can also learn more about this topic by reading the Dear Doctor magazine article "Dental Implant Surgery."