Posts for: February, 2012
By Parker Dentistry
February 15, 2012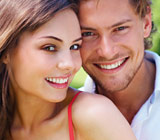 Projecting a healthy, radiant smile can help boost self-confidence and lead to increased comfort and success in both personal and career-oriented situations. Yet, many people are unhappy with their less-than-pearly whites, causing them to avoid social interaction and even lose out on opportunities because they are too self-conscious.
Your dissatisfaction with the appearance of your teeth may also be causing you to stifle one of nature's most endearing and intrinsic impulses, simply smiling!
For example, do you:
Avoid posing for pictures that require a smile?
Cover your mouth when speaking or laughing in public?
Avoid dating because you feel unattractive?
Feel that people think less of you because your smile is flawed?
Think your smile makes you look older than you are?
If you've answered yes to any of these questions, you are certainly not alone. A poll conducted by the American Academy of Cosmetic Dentistry found that, while a whopping 99.7% of respondents said they considered a good smile to be a highly important social asset, only 50% of those same respondents indicated that they were satisfied with their own smile. In addition, the Academy reported that people between the ages of 31 and 50 are most unhappy with their smile, are most concerned with making a good first impression through a strong smile, and most frequently seek out information on cosmetic dentistry.
The good news is that advances in cosmetic enhancement and restorative dentistry, including treatments like teeth whitening and the application of porcelain veneers to correct tooth crowding, make it possible for anyone to enhance or improve their smile and boost their self-image. And a complete "Smile Makeover" has been shown to positively impact the perception that others have with respect to attractiveness, popularity, and even wealth — all based on the quality of a person's smile.
Our office can work with you to determine just what it will take to improve your smile and self confidence from as little as a minor enhancement to a complete smile makeover — anything that would best match your idea of the perfect smile. To get started, give us a call.
To read about others who have regained their confidence after brightening and whitening their smiles through cosmetic dentistry, read the Dear Doctor magazine article "The Impact of a Smile Makeover."
By Parker Dentistry
February 07, 2012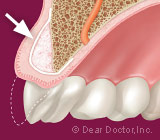 Dentists often recommend bone grafting to ensure the success of dental implants. And it is likewise common for people to squirm a bit at the thought. Bone graft? That sounds serious. And maybe a bit, well, unappealing. These feelings are completely understandable. After all, this may be something you've never had to consider before. But there's no reason to worry. Here's why:
Bone grafting is not new or experimental. It is actually a very routine part of the implant process, as well as other types of oral and periodontal surgery. And it is very successful when performed by an experienced doctor.
Bone grafting materials are processed for safety. The grafts used — whether synthetic or from a natural source, such as cow or human bone — have been specially treated for medical use.
Only a small amount of this bone-grafting material is needed. Once placed in the site of the missing tooth, it serves as a helpful scaffold your body uses to build more of its own bone in that spot.
Your implant will be more ideally positioned and may work better. It needs a good, strong foundation with which to fuse. But when teeth are lost, this supporting bone is often lost, too. This loss is often unpredictable and bone grafting limits the change that occurs. In fact that's one of the main benefits of replacing missing teeth with implants: they help prevent bone loss just as a natural tooth does.
Your implant will look so much better! Think about it: Your original tooth was supported to a certain height by the underlying bone. If that bone is now gone, the replacement tooth is going to be much longer because of the missing bone height. It may not look quite right without that additional support.
So if you want the best-looking and best-functioning implant possible, have no fear of bone grafting. And please contact us to discuss any of your concerns, or schedule an appointment for an implant consultation.
You can read more about this topic in the Dear Doctor magazine article "Can Dentists Rebuild Bone?"